With warm weather almost here, you might want to put away your dark sweaters and jackets and embrace more color in your wardrobe. And an easy way to add color to your everyday style is with printed skirts. They are versatile, stylish and super adorable.
There are certainly many breezy, flowy, summery skirts for you to pick from, but unlike the one-and-done dress, styling a skirt requires some amount of careful thought. The secret to carrying off a busy print on your lower half perfectly? Balance. Keep the rest of your look simple and crisp. You can add some extra polish with jewelry and other accessories.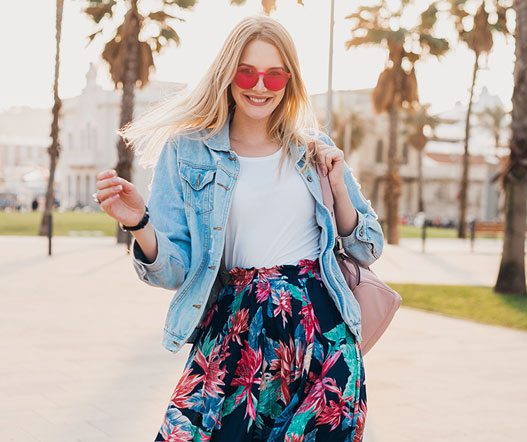 Here are some simple printed skirt outfit ideas for you to try:
The casual running errands look
You may have lived the last year and maybe even some part of this year in your leggings, but now it is time to swap them out for a printed skirt. The next time you run errands, wear your skirt with a basic t-shirt and a pair of sneakers. This casual look will keep you comfortable in the heat, while also making you look cute.
The elevated date night look
While printed skirts may seem more like daytime outfit, they can be quite easy dressed up for a date or night out. Pair your skirt with a dressier top in a complementary color and strappy heels. To add the finishing touches, accessorize the look with an evening bag or a small crossbody bag, as well as some delicate jewelry.
The fun-day-at-the-beach look
The thing about printed skirts is that they work as great cover-ups. Simply throw it on over your swimsuit before you head out to the beach. You can slip it back on before you leave, which will help create the perfect outfit for all those post-beach drinks with your friends.
Printed skirts are definitely a warm weather must-have, and if you don't already have one in your closet (or want to add more), we have some really great pieces for you to choose from.
Want to buy cotton modal bottoms? No problem. We have those too! Browse through our selection to find cotton modal bottoms on sale, at prices that will match any budget.