Valentine's day is around the corner, and, indeed, many women are still wondering what to wear on this perfect day to go on a date with your better half. You might have done all the preparations but, what stresses you the most is what to wear out of various options available for luxury basics clothing. The aim should be to dress your best while feeling comfortable and reflecting your personal style.
Whether you will spend it by going out for an evening date or just watching a movie with your loved one, the dress you will choose to wear should help in flaunting your beauty and elegance. You can choose anything from a short dress to a mid-length middies to look like a perfect diva. Check the latest luxurious to basic clothing collection for women exclusively available at AtoZ for your Valentine's day celebration. We have a beautiful collection of maxi dresses, short dresses, V-neck dresses, and more. Our dresses are comfortable and breathable so that you can wear them anywhere apart from just Valentine's Day.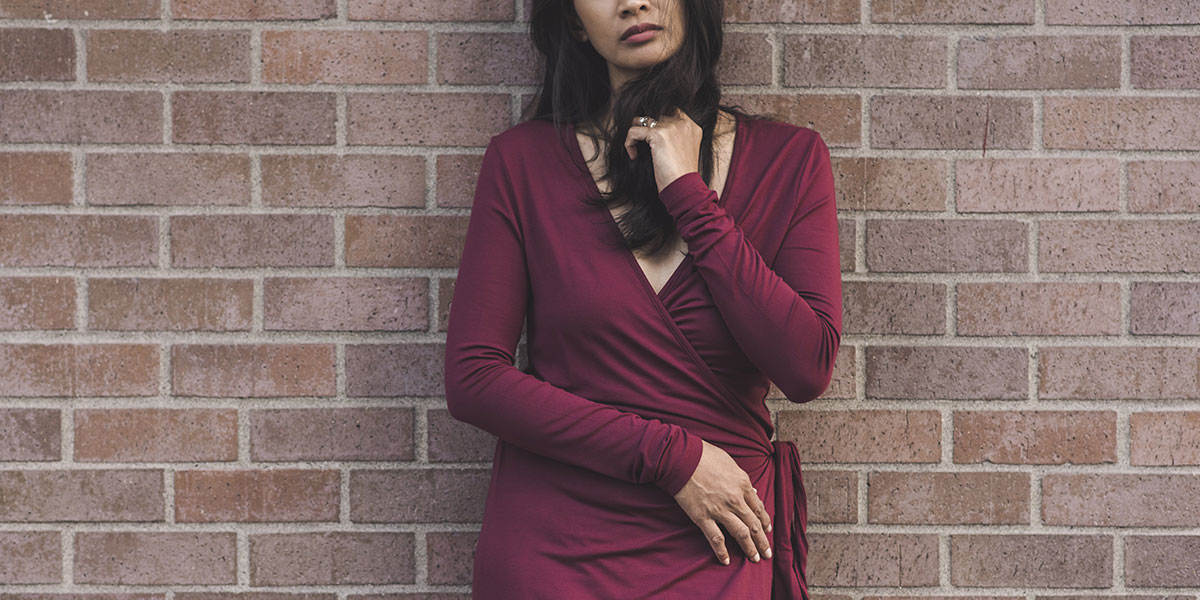 Express yourself better with our beautiful and stylish luxury basics clothing on Valentine's day.
Beautiful Dresses Collection For The Valentine's Day
Here are some beautiful dresses for you to create a dazzling and glamorous look from our exclusive women's dresses collection on your Valentine's date.
1. Strap wrap dress
It is a sleeveless wrap dress. The dress features a strapless bra and side tie wrap to create a casual yet sophisticated look. This beautiful dress has been made with ultra-soft modal fabric and has a flared fit at the bottom for a flawless and super comfy fitting. It is an easy-to-carry dress and will be perfect attire for Valentine's day evening date.
2. Full sleeves modal wrap dress
It is full sleeves wrap dress designed to create a casual and everyday look. Our beautiful V-neck dress is made with soft cotton modal fabric and straight flair at the bottom. The style statement of this full sleeves outfit is defined by its notched V-shape neckline and a wrap belt with full sleeves. Look stylish and comfortable all day with this wrap dress. Pair it up with accessories and matching heels for a more dazzling look. Wrap dresses are never out of vogue, and they are adjustable. You can tie them as per your requirements. The wrap dress is a style you can consider wearing all year round.
3. Modal wrap tulip skirt
If you want to doll up for your Valentine's Day in a two-piece dress, then a modal wrap tulip skirt is a perfect choice. Create your perfect style with a wrap skirt. These dresses go perfect for every occasion. The skirt is super comfy and perfectly fits due to the elastic waistband. For a Valentine's Day look, tuck in favorite tops of any shades of red and maroon for a more polished look with a black modal wrap tulip skirt.
4. Short sleeves wrap V-neckline dress with pom poms bottom
Want an outfit between full sleeves and sleeveless? Then short sleeves wrap V-neckline dress with pom poms bottom is perfect for you. It is a simple yet appealing outfit featuring a V-neck, pom poms bottom, and uneven mid-calf hemline. Bring out the fashion diva in you with this beautiful piece of basic clothing for women. Wear this outfit to soothe your inner beauty on your Valentine's Day date.
Want To Purchase These Outfits? Contact Us!
You can shop for dresses for your Valentine's Day celebration with your better half from our collection of beautiful yet glamorous dresses. Our dresses are designed for professionals, stay-at-home moms, and women who love casual and stylish natural fiber clothing. To purchase young mom dresses in Seattle and casual women's dresses, reach out to AtoZtees.com to buy them at affordable charges. Make a purchase from here for a simple yet elegant look for a perfect Valentine's date.